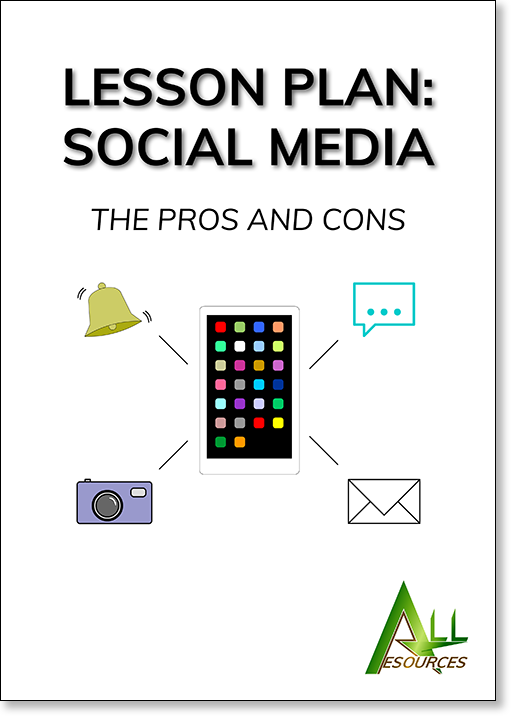 Ebook: £2.99

Hard copy: £10.99 add to basket
This lesson plan looks at the positive and negative aspects of social media. It examines how social media has become an integral part of day-to-day life and how it can easily take over our lives if relied on excessively.
For a more comprehensive resource pack on staying safe online download our online safety resource pack: 'Personal Safety in Cyberspace'.
---
Benefits
Ready to use lesson plan to introduce the topic of social media.
Photocopiable — use year after year again and again.
Illustrated throughout.
Simple, clear and concise and easy to follow.
Downloadable — instantly available and no delivery costs.
---
What's Inside?
The extent of social media in the modern world.
What are the positive sides of social media?
Are there negative sides to social media?
What are the benefits of doing a digital detox?
---
Who is it for?
Teachers — What can teachers do to ensure students use social media safely and wisely, and how can they warn of the dangers?
Parents — Do parents know what social media sites their children are accessing online? How can they know which networking sites are safe for them to use?
Young People — How can young people stay safe on social media and how can they moderate their usage if necessary?
---
Product Details
Pages: 18
Duration: 1 hour 20 mins
Illustrated throughout
Age range: 12 years and upwards
---
Frequently Bought Together
---
If you are based in the UK and wish to order by post and pay by cheque, please download our order form. UK orders can only accept cheques drawn on banks or branches of banks based in the UK. The cheque must be cleared before publications are despatched or before you are given access to electronic media.
Alternatively, if you are outside the UK but within the EU, you can download our EU order form here.