Food Addiction
It may be surprising to think about food as an addiction, especially if it relates to binge eating in childhood. While studies on the prevalence of eating problems in childhood are rare, surveys suggest that between 20% and 25% of overweight or obese children are addicted to food, with the childhood eating disorder typically emerging between the ages of 6 and 12 years. In many cases there is a slowdown in a child's normal growth alongside an increase in weight which is too much for their age and height. Research has also found a link between food addiction in children and childhood obesity.
Compulsive eating has nothing to do with hunger. It is a habit that usually develops in response to stress-related conditions, depression, anxiety, low confidence or even boredom. So how can a parent help a child if they believe they are developing an addiction to food? Some of the following suggestions may help:
Do not use food as a reward for good behaviour.
Make sure you allow treats such as sweets and ice cream — but only after they have eaten a balanced meal.
Provide plenty of water — this should always be the first choice when providing drinks. There is no reason to provide sweet, sugary fizzy drinks.
Make sure your child has access to healthy snacks and a variety of fruits and vegetables.
If your child is addicted to food or has a food anxiety, they may need to see a GP who can refer them to a counsellor or therapist. This will ensure they are given practical assistance and support to help them develop ways to cope with the negative feelings that lead to overeating.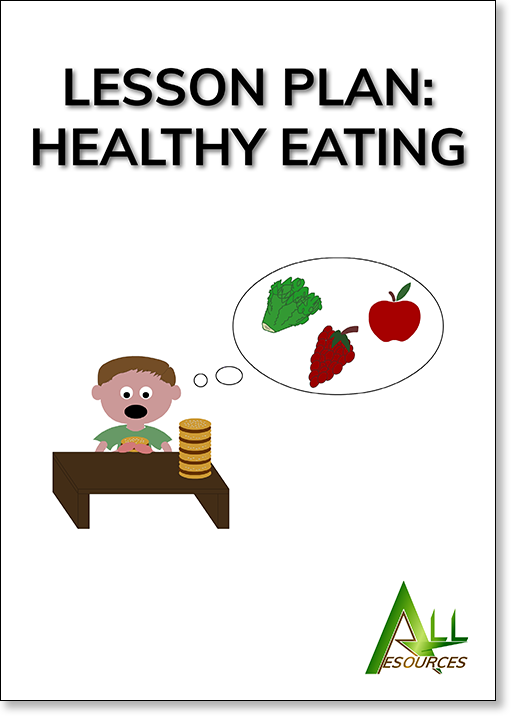 This lesson plan covers healthy eating, different food types and how to develop a healthy diet.
Ebook: £2.99

Hard copy: £10.99 add to basket
---
Food Addiction Topics for Schools
Binge Eating in Childhood
Food Addiction in Children
Childhood Obesity
Food Addiction Support for Schools
We publish digital food addiction resources to support schools by providing help and guidance in an educational format. Our resource packs give the information in a sensitive way that informs as well as educates.
Food Addiction Support for Teachers
Our food addiction resources for teachers include food addiction resource packs that cover a variety of issues as well as our lesson plans on food addiction.
Food Addiction Support for Students
Teaching students about food addiction is important. Our aim is to produce resource packs that provide information and knowledge of food addiction in a sensitive way.