Alcohol Addiction
An addiction to alcohol is also referred to as alcoholism. When someone is addicted to alcohol they have a physical dependency on alcohol, and this can lead to mental health problems as well as physical problems. Alcohol is a depressant and it can therefore lead to depression. As the person becomes more depressed, they tend to drink even more — and so the vicious circle continues.
If a person is unable to control the amount of alcohol they consume, then total abstinence is probably the best way forward. This is not easy and it is important that the individual gets as much help and support as they can. Many alcoholics engage in binge drinking, which is a pattern whereby large amounts of alcohol are consumed over a short period of time interspersed with periods of abstinence in between.
Typical symptoms of alcoholism include:
Hiding the amount you drink when questioned.
Drinking in secret.
Drinking alone — at home — rather than with family/friends.
Inability to control when/if you drink or the amount you drink.
Having contact with the law or medical professionals due to your drinking.
Getting angry or irritable if you are unable to drink.
Ultimately, if someone is addicted to alcohol, it is down to them to take the first steps towards recovery. Nobody can be forced to stop drinking, and putting pressure on alcoholics to stop drinking will not work. There is help and support available for those dependent on alcohol but it is up to the individual to admit they have a problem. This takes courage and humility, but it is the only way that an alcoholic can make progress and tackle their drinking.
Downloadable Alcohol Addiction Resources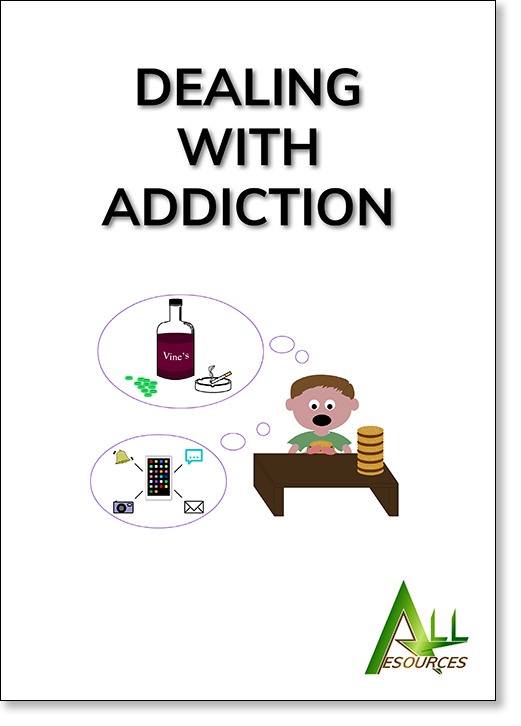 Providing the facts about substance abuse, gambling, gaming & food addiction as well as how to help people recover from addiction.
Hard copy: £35.99 add to basket
---
Alcohol Addiction Topics
The alcohol addiction topics we produce resources for include:
Alcohol Depenency
Binge Drinking
Symptoms of Alcoholism
Tackling Alcoholism