Smoking
Teenage smoking is a big problem in many countries despite the dangers of tobacco. Tobacco smoke contains over 4000 different chemicals, many of which are harmful. Young people who smoke find it very difficult to break free from their tobacco addiction. Most develop lifelong tobacco dependency and almost half of all young smokers will eventually die from smoking-related causes. Tobacco is the only legal substance that can kill people if used exactly as intended.
To tackle this problem and help teenagers that smoke, All Resources has produced resource packs which highlight the dangers of smoking and a variety of other illegal and legal substances. Our packs give young people and teenage smokers the facts about smoking so that they can make informed decisions about their health.
Downloadable Smoking Resources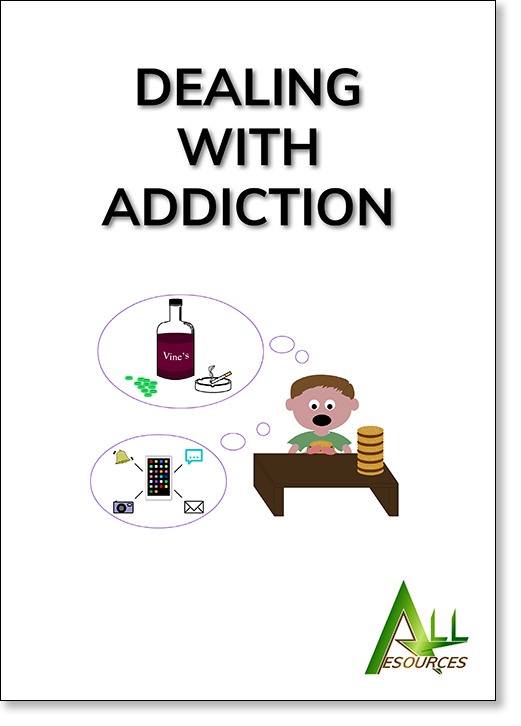 Providing the facts about substance abuse, gambling, gaming & food addiction as well as how to help people recover from addiction.
Ebook: £10.99

Hard copy: £35.99 add to basket
---
Smoking Topics for Schools
Cigarettes
Teenage Smoking
The Dangers of Smoking
Smoking Support for Schools
We publish digital smoking resources to support schools by providing help and guidance in an educational format. Our resource packs give the information in a way that informs as well as educates.
Smoking Support for Teachers
Our smoking resources for teachers include smoking resource packs that cover a variety of subjects as well as our lesson plans on smoking.
Smoking Support for Students
Teaching students about smoking is important. Our aim is to produce resource packs that provide information and knowledge of smoking.