Suicide
Suicide is one of the most traumatic events and one person dies every 40 seconds by suicide. It is vital that schools, youth centres, businesses and other organisations can access resources for suicide if they are to tackle the root causes of suicidal ideation.
What is Suicide?
Suicide is the act of taking one's life voluntarily. It is contrary to the normal human desire for self-preservation.
Worldwide, approximately 1 million people die by suicide each year and it is among the three leading causes of death among males and females aged 15 – 44 years.
More investment and support is needed in mental health including suicide awareness and suicide prevention.
Many suicidal people suffer from mental health problems such as depression, although not all depressed people have contemplated suicide or feel suicidal. World Suicide Prevention Day is a time for us all to focus on preventing suicide and to reassure those who are feeling suicidal. WSPD is observed every September and is a time to raise awareness of suicide.
There are a number of suicide prevention resources on the market which contain toolkits, fact sheets and other information. There are also more comprehensive suicide prevention programmes and other resources and they provide evidence that suicide is preventable.
Risk Factors for Suicide
There are some risk factors for suicide and they include:
Mental disorders such as depression, drug abuse, schizophrenia, antisocial personality disorders, and anxiety disorders.
A previous suicide attempt increases the likelihood of further suicide attempts.
A family history of attempted or completed suicide.
Serious medical conditions, severe pain, cancer, AIDS or other terminal illnesses.
Certain stressful life events such as losing someone close, relationship breakups, child/parental separation.
Stress over a long period due to long-term events such as unemployment, serious relationship problems, bullying, another person's suicide, parental illness or death etc.
All Resources has produced a number of resources for suicide prevention which cover aspects of mental health with the aim of preventing suicide. They provide information on the potential warning signs that someone is in emotional distress and advice on how to tackle these issues.
Education and training is key in preventing suicide and self-harm. Our resource pack 'Suicide is Never the Answer' provides support and information on depression and suicide.
Downloadable Suicide Resources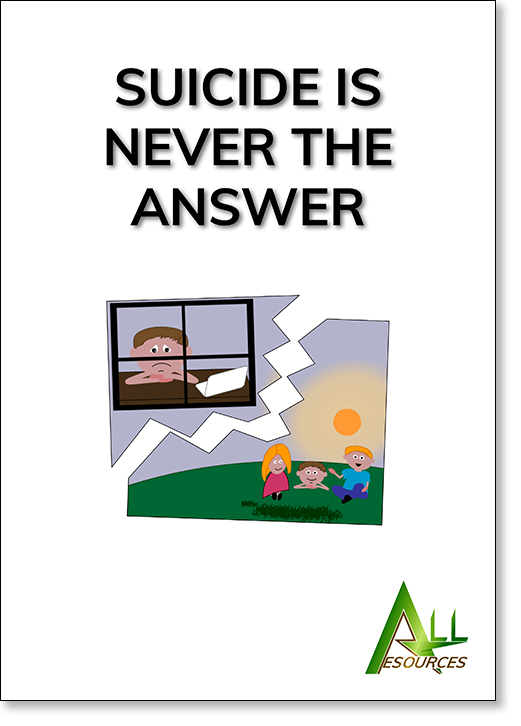 Understand the reasons behind suicidal feelings and recognise the warning signs of a potential suicide to help prevent this tragedy.
Ebook: £8.99

Hard copy: £25.99 add to basket
---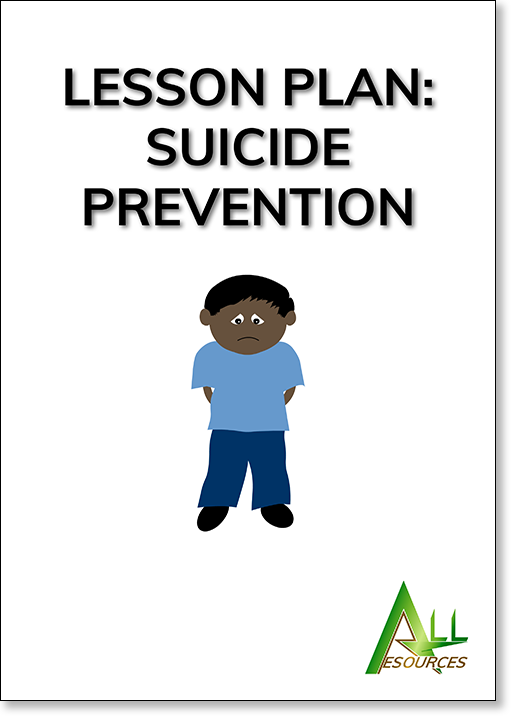 A lesson plan designed to promote suicide awareness and prevention.
Ebook: £2.99

Hard copy: £10.99 add to basket
---