Depression School Resources
What is depression? Everyone feels low at some time during their life, but most people get better gradually and their sad mood fades. However, for some these feelings of depression linger and escalate. What are the signs of depression?
Symptoms of depression include:
ongoing sad feelings
worry
anger and aggression
depressive mood
lack of energy
problems sleeping
guilt or remorse
Causes of depression can include:
conflicts at home
body chemistry
hormones
genetics
medication
diet
Depression can also follow a long illness, or it can stem from outside circumstances such as bereavement.
Teenage Depression
Worryingly, depression is on the increase among teenagers and young people. They need help overcoming depression before they develop severe depression symptoms which could then become a long-term problem in their lives.
All Resources provides resources to encourage openness and frank discussion on the delicate issues of depression. They contain information on dealing with depression and support for beating depression and the feelings of depression.
Digital Depression Resources for Schools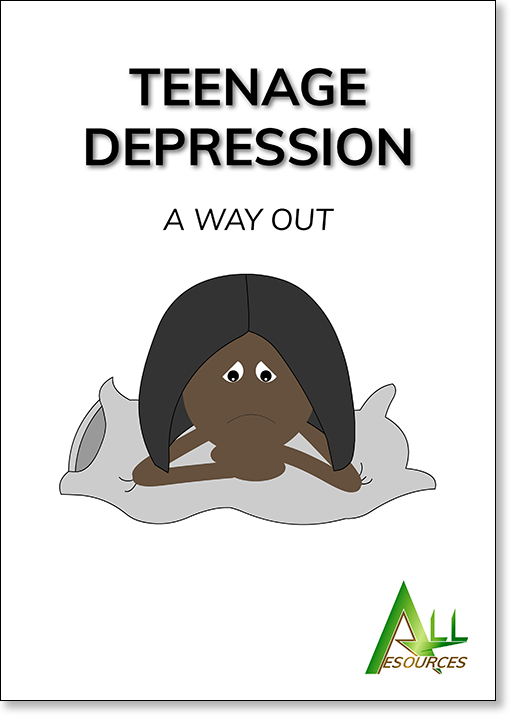 Tackles the issue of depression including causes and signs that parents and teachers can look out for.
Hard copy: £35.99 add to basket
Depression Topics for Schools
Teenage Depression
Helping Young People Suffering with Depression
Dealing with Teenage Depression
Depression Support for Schools
Our digital depression resources provide help, guidance and education on various depression topics. The resource packs we produce give the information in a sensitive way that informs as well as educates.
Depression Support for Teachers
To aid the teaching process we publish depression resources for teachers which include depression resource packs covering a variety of issues as well as lesson plans on depression.
Depression Support for Students
Teaching students about depression can be a difficult task. Our aim is to produce resource packs that are designed to equip young people with the necessary emotional skills to deal with teenage depression in a tactful way that respects the confidentiality of those experiencing these issues.