Suicide
Suicide is one of the most traumatic events. One person dies every 40 seconds by suicide and many people have either contemplated suicide or know of someone who has experienced suicidal ideation. Sadly suicide is on the increase and worldwide about one million people take their own life each year.
Many suicidal people suffer from mental health problems such as depression, although not all depressed people will feel suicidal. World Suicide Prevention Day 2020 is a time for us all to focus on preventing suicide and to reassure those who are feeling suicidal. WSPD is observed every September and is a time to raise awareness of suicide.
There are some risk factors for suicide and they include:
Mental disorders such as depression, substance abuse, schizophrenia, antisocial personality disorders, and anxiety disorders
A previous suicide attempt increases the likelihood of further suicide attempts
A family history of attempted or completed suicide
Serious medical conditions, severe pain, cancer, AIDS or other terminal illnesses
Certain stressful life events such as losing someone close, relationship breakups, child/parental separation
Stress over a long period due to long-term events such as unemployment, serious relationship problems, bullying, another person's suicide, parental illness or death etc
All Resources has produced a number of PSHE resources and our resource pack, Suicide is Never the Answer, provides valuable material for World Suicide Prevention Day. This pack gives advice on recognising suicidal feelings and explains how to respond to suicidal behaviour. It can be used during WSPD to introduce the subject of suicide to young people in an honest and considerate way.
Suicide Resources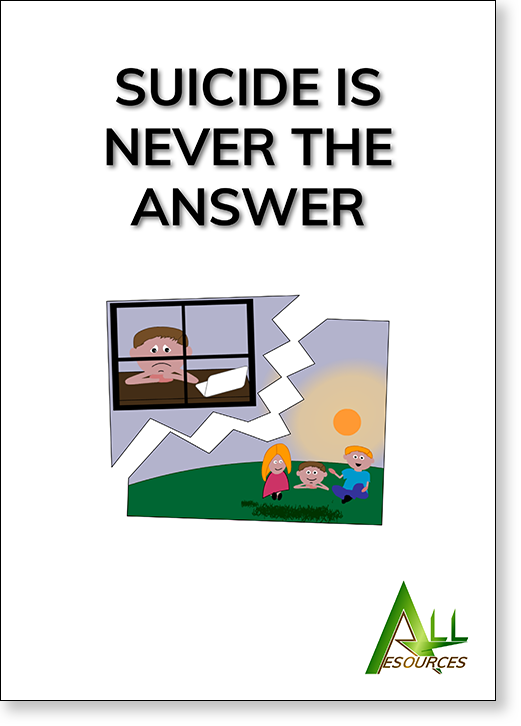 Understand the reasons behind suicidal feelings and recognise the warning signs of a potential suicide to help prevent this tragedy.
Download: £12.49 add to basket
Hard copy: £25.95 add to basket