Making Sense of Finance — Part 1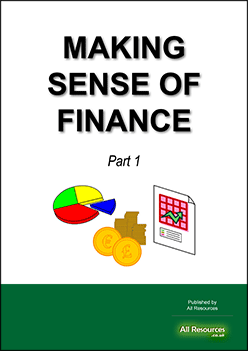 View sample pages
Why do we need money? Why do people gamble, steal, blackmail, threaten, bully and even kill for money? This pack includes sections on the history of money, how to make money work for you, managing money, personal budgeting, saving & borrowing and taxation.
Hard copy: £27.99 £25.99 add to basket
There is a time limit of 48 hours for all download purchases. Please view our terms for information.
The fastest way to purchase All Resources publications is online via credit or debit card.
Alternatively, if you are based in the UK and wish to order by post and pay by cheque, please download our order form. UK orders can only accept cheques drawn on banks or branches of banks based in the UK. The cheque must be cleared before publications are despatched or before you are given access to electronic media.
If you wish to order by post and pay by cheque and you are outside the UK but within the EU, you can download our EU order form here.