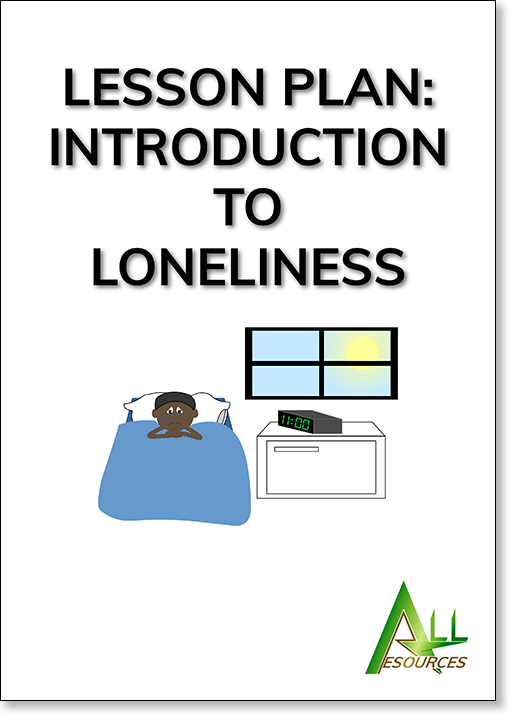 Ebook: £2.99

Hard copy: £10.99 add to basket
Loneliness is a growing problem, and more people are living alone than ever before. This lesson plan provides information and advice on coping with loneliness and includes:
A definition of loneliness and its main causes.
What are some of the symptoms of loneliness?
How to deal with loneliness.
---
Benefits
Ready to use lesson plan to introduce loneliness and its effects on physical and mental health.
Photocopiable — use year after year again and again.
Simple, clear and concise and easy to follow.
Downloadable — instantly available and no delivery costs.
---
What's Inside?
What can lead to loneliness?
Is there a difference between loneliness and being alone?
What are the effects of loneliness on individuals both physically and mentally?
How can we tackle loneliness?
---
Who is it for?
Teachers — This lesson plan helps teachers explain the difference between being alone and being lonely.
Parents — How can parents help their young ones deal with feelings of isolation?
Young People — This resource helps young people understand loneliness and provides advice on ways to deal with loneliness.
---
Product Details
Pages: 15
Duration: 55 mins – 1 hour
Age range: 12 years and upwards
---
Frequently Bought Together
---
If you are based in the UK and wish to order by post and pay by cheque, please download our order form. UK orders can only accept cheques drawn on banks or branches of banks based in the UK. The cheque must be cleared before publications are despatched or before you are given access to electronic media.
Alternatively, if you are outside the UK but within the EU, you can download our EU order form here.