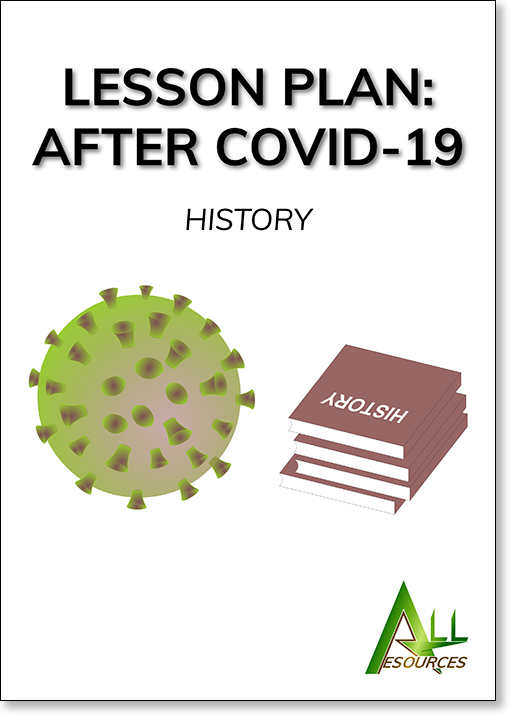 Ebook: £2.99

Hard copy: £10.99 add to basket
This lesson plan examines the coronavirus from an historical perspective and examines pandemics in times past. To purchase the whole collection of COVID-19 resources, including worksheets, activities and lessons, download our COVID-19 resource pack: 'After COVID-19 — Returning to Education after the Coronavirus'.
The following valuable information is provided in this lesson plan:
The history of pandemics around the globe.
The 'age of exploration and discovery' and colonisation.
How diseases spread from country to country.
This lesson plan helps introduce COVID alongside the subject of history and examines other pandemics throughout the centuries.
---
Benefits
Ready to use lesson plan to introduce the topic.
Photocopiable — use year after year again and again.
Illustrated throughout.
Simple, clear and concise and easy to follow.
Downloadable — instantly available and no delivery costs.
---
What's Inside?
How the 'age of exploration and discovery' and colonisation led to the spread of many infectious diseases around the world.
The effect of worldwide travel on the spread of the coronavirus.
The history of the Black Death throughout Europe and Asia.
False remedies for pandemics throughout history and various myths associated with COVID-19.
---
Who is it for?
Teachers — This pack helps teachers examine COVID through the topic of history.
Parents — Parents can help their children look at pandemics from an historical perspective.
Young People — This resource helps young people understand truth versus myth in relation to COVID remedies.
---
Product Details
Pages: 12
Duration: 1 hour 15 mins
Illustrated throughout
Age range: 12 years and upwards
---
Frequently Bought Together
---
If you are based in the UK and wish to order by post and pay by cheque, please download our order form. UK orders can only accept cheques drawn on banks or branches of banks based in the UK. The cheque must be cleared before publications are despatched or before you are given access to electronic media.
Alternatively, if you are outside the UK but within the EU, you can download our EU order form here.