Bullying in the Workplace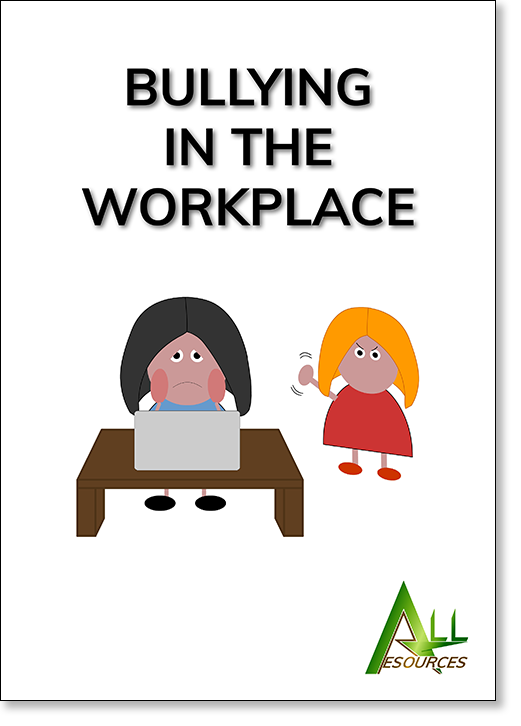 Ebook: £8.99

Hard copy: £25.99 add to basket
Workplace bullying is a growing problem in companies worldwide. It is a harmful, destructive type of behaviour which affects the mental health of those at the receiving end. It is vital that businesses tackle workplace bullying as soon as possible.
Signs of Workplace Bullying
Bullying in the workplace is often subtle in nature and it can be difficult to spot when compared to regular bullying. Examples of workplace bullying include:
Regular and unwarranted criticism of a person's quality/quantity of work
An overly-aggressive manner, particularly by a director, manager or supervisor
Personal insults and name calling, verbal abuse and derogatory comments
Gossiping about a member of staff, starting rumours, ridiculing a person behind their back
Persistently overlooking someone for training, advancement, promotion etc even when it is clear they are the best candidate
Unfairly delegating large amounts of work to a specific person, often resulting in them working late, encroaching on their personal time
Our 'Bullying in the Workplace' resource pack provides information and advice on identifying and dealing with workplace bullying in a workplace setting. It covers the signs of workplace bullying, types of workplace bullying and the effects of workplace bullying including the damage it does to individuals and companies.
Some of the most common types of bullying in the workplace include:
Spreading spiteful rumours specifically to damage someone's reputation
Verbal abuse, mainly on the ground of race, sex, disability, sexual orientation, religion etc
Exclusion or victimisation — excluding someone from team events, meetings etc
Ridiculing or demeaning someone — setting someone up to fail
Micro-managing every part of a subordinates work
Threats or comments about job security without foundation
Blocking promotion or training opportunities
Making derogatory comments online
Organisations can use this resource pack to educate their workforce and provide on-going training for those in charge of tackling bullying. This will ensure that managers are aware of how to identify bullying so they are able to deal with any complaints in the most effective way.
If you are based in the UK and wish to order by post and pay by cheque, please download our order form. UK orders can only accept cheques drawn on banks or branches of banks based in the UK. The cheque must be cleared before publications are despatched or before you are given access to electronic media.
Alternatively, if you are outside the UK but within the EU, you can download our EU order form here.