In the UK, 1.03 million young people aged 16–24 are unemployed and the rate of youth unemployment, at 22.2%, remains high. At 17.9%, Northern Ireland has one of the highest rates of youth unemployment in the UK and the number of young people without a job there has doubled since 2008. It is obvious that urgent action is needed.
In response to the challenge of tackling youth unemployment, the Government will spend almost £1 billion over the next three years to provide unemployed young people with extra help as part of a new 'Youth Contract'. This new initiative will offer subsidies to employers who take on 18–24-year olds via the Work Programme. These subsidies will provide more than enough to cover the employer's National Insurance contributions for the young employee for the first year.
There will be a number of other options available to young people as part of the Youth Contract including:
assistance to negotiate a voluntary work experience placement
opportunities to access education as part of a 'learn while you earn' initiative
tailored support from a Jobcentre Plus adviser
a careers interview with the National Careers Service (in England)
The Youth Contract is a very welcome employment scheme and will no doubt provide much needed support to unemployed youths. However, it is also vital that young people are given the tools to help them seek work. They need to understand the various career options available to them, and they need to understand the job hunting process from beginning to end.
All Resources has produced a publication entitled 'Effective Job Hunting' which enables young people to carry out an effective job hunting campaign. It provides advice on contacting employment agencies and making speculative applications to companies. It also examines the role of job centres, how to use recruitment sections in newspapers, how to prepare an effective CV, how to write application letters, how to cope with the interview process and how to put a 'job hunting kit' together. This book is a must for all school leavers as they leave school and enter the world of employment at this extremely challenging time.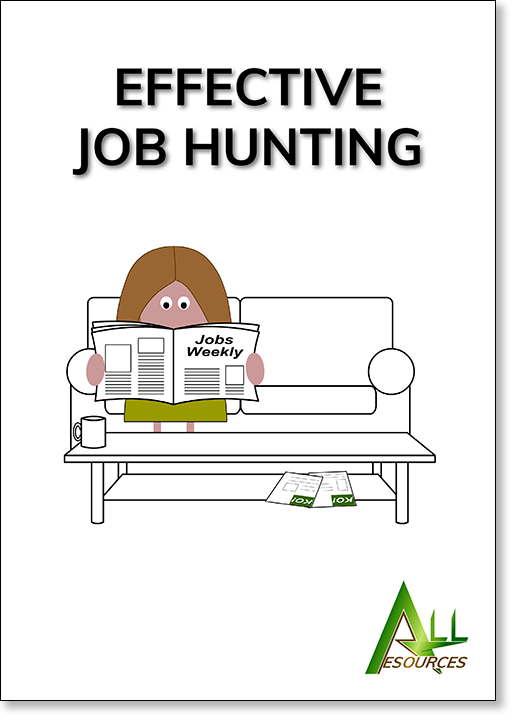 Examining the job hunting process including career decisions, contacting agencies, job centres etc.
Ebook: £10.99

Hard copy: £35.99 add to basket