Dealing with Addiction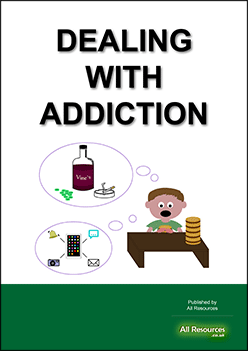 View sample pages
What are the long-term effects of addictions? How does addiction affect the lives of the individual and those around them? This resource pack gives young people the facts about drinking, smoking, drugs, gambling and other addictions and encourages them to make informed decisions about their own mental and physical health.
Download: £13.50 add to basket
Hard copy: £26.95 add to basket
There is a time limit of 48 hours for all download purchases. Please view our terms for information.
The fastest way to purchase All Resources publications is online via credit or debit card.
Alternatively, if you are based in the UK and wish to order by post and pay by cheque, please download our order form. UK orders can only accept cheques drawn on banks or branches of banks based in the UK. The cheque must be cleared before publications are despatched or before you are given access to electronic media.
If you wish to order by post and pay by cheque and you are outside the UK but within the EU, you can download our EU order form here.