Cyberbullying Lesson Plans
All Resources provides lesson plans on cyberbullying for schools and teachers covering a range of topics such as:
The signs of cyberbullying
How to deal with cyberbullying
How to prevent cyberbullying
Cyberbullying on social media
Staying safe online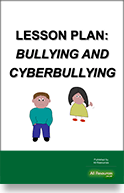 A lesson plan on bullying and cyberbullying. It covers how to deal with bullying and cyberbullying and contains handouts for the classroom.
For a more comprehensive resource pack on bullying, including worksheets, activities and lessons, download our bullying resource pack 'Bullying — A Complete Approach'.
Ebook: £2.99

Hard copy: £10.99 add to basket