Social Media Resources for Schools
What is Social Media?
Social media is a method of online communication whereby people can share information in real-time. It specifically refers to the various websites and applications that allow people to create networks and share content such a messages, news, ideas, pictures, audios and videos quickly, and efficiently.
The increased availability and use of social media has enabled people to connect with friends and family, to catch up on current events, and, perhaps most importantly, to entertain themselves. Social media is an integral part of the lives of people everywhere.
Social Media School Resources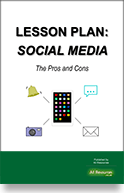 A lesson plan on social media. It goes into the benefits of social media as well as social media safety.
For a more comprehensive resource pack on staying safe online download our resource pack
Personal Safety in Cyberspace.
£2.99

Hard copy: £10.99 add to basket