Finance Resources for Schools
An understanding of money and the way it can help us achieve our goals is an important life skill to master. If we do not learn how to handle money, such as how to budget, save money or keep out of debt, money could easily cause a great deal of unhappiness and money worries affect a lot of people around the world.
All Resources has developed a set of resources to help young people build the skills, knowledge and confidence necessary to manage money effectively.
Finance School Resources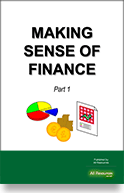 Covering the history of money, how to make money work for you, managing money, budgeting, saving & borrowing and banking.
Hard copy: £27.99 £25.99 add to basket