English Resources for Schools
English is the language of international communication. It is also the language of the media, the internet and much more and therefore English skills are vital. Teaching English has always been a priority in English-speaking countries and learning English is an essential part of the curriculum in many schools. Because English is a global language, crucial competencies include reading and writing, English grammar, reading comprehension. and spoken English.
All Resources provides resource packs covering English which are designed to help students develop their own English language skills in a format that makes learning motivating and enjoyable.
English School Resources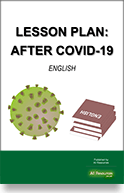 A lesson plan that covers individual activities and experiences during the coronavirus through reading and writing.
Download: £3.49 add to basket
Hard copy: £12.99 add to basket
English Topics for Schools
Spoken English
English language skills
Teaching English
Learning English
Reading
Writing
English grammar
Reading comprehension