Cyberbullying
Young people today are accustomed to new technology and most have smart phones, tablets or laptops. Sadly, this has led to an increase in cyberbullying and it is now the most common form of bullying. But what is cyberbullying?
All Resources aims to provide answers to questions such as:
What does cyberbullying mean?
Why do people cyberbully?
What are the signs of cyberbullying?
What are the effects of cyberbullying on an individual?
How should we deal with cyberbullying?
Is cyberbullying a crime?
How can we prevent cyberbullying?
Cyberbullying usually takes place via text messages, social networks, instant messages, emails, online forums, chat rooms etc. Because of the anonymous nature of these types of cyberbullying, it is difficult to resolve and the cyberbullies often go unchallenged.
Because of the seriousness of the problem, the UK government has introduced guidelines to tackle cyberbullying.
Guidlines to Tackle Cyberbullying
In brief, all educational establishments are expected to develop a whole-school approach to cyberbullying which covers the following key elements:
The development of a shared, agreed cyberbullying definition
The establishment of new policies and practices, ensuring that everyone is engaged in and aware of the school's approach to cyberbullying
The provision of clear rules on the use of equipment, software and network access, Virtual Learning Environments, internet access, staff/pupil owned equipment, mobile phones, digital cameras, and laptops
The provision of a clear understanding of acceptable behaviour for learners and employees including behaviour outside of school
It is very important that schools have robust anti-bullying policies in place, and all incidences of bullying and cyberbullying must be investigated. Schools must ensure that policies and practices involve not only teaching practitioners and students, but also parents and other members of the community who have an interest in the wellbeing of students. Areas covered should include:
How does cyberbullying start?
Where is cyberbullying most common?
What can we do to stop cyberbullying?
How to help someone being cyberbullied
How to avoid cyberbullying in your organisation
The consequences of cyberbullying
Cyberbullying on social media
The link between cyberbullying and suicide
Internet safety and cycerbullying
Types of cyberbullying and examples
Our resource pack Personal Safety in Cyberspace gives advice on cyberbullying and how to stay safe online. Please view our sample pages.
All Resources encourages a cross-curricular approach whereby cyberbullying is linked with relevant subjects across the curriculum.
Cyberbullying Resources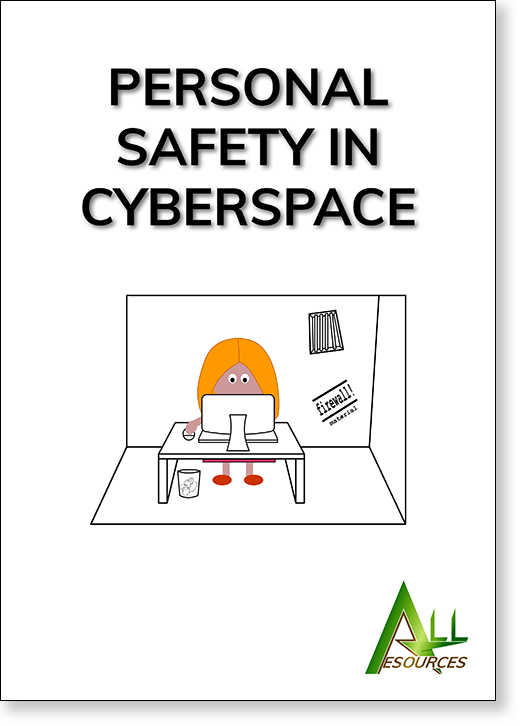 This pack looks at the dangers of chat rooms, phishing, webcams, cyberbullying and online scams.
Download: £13.49 add to basket
Hard copy: £27.95 add to basket
Cyberbullying Lesson Plans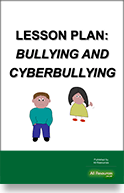 A lesson plan on bullying and cyberbullying. It covers how to deal with bullying and cyberbullying and contains handouts for the classroom.
For a more comprehensive resource pack on bullying, including worksheets, activities and lessons, download our bullying resource pack
Bullying — A Complete Approach.
Download: £2.49 add to basket
Hard copy: £9.99 add to basket