Online Safety Resources
We live in an information age — one of mass communication and information technology (IT). From computers to mobile phones, text messaging to social media, we are all adept at using a variety of devices to access this new technological arena.
It is difficult to remember a time before the internet burst onto the scene. IT has come a long way from the early days, and the internet superhighway is part of our daily life. From the way we receive our news, through to the way we keep in touch with family and friends, IT plays a vital role in the world of business, commerce and entertainment. While this new way of communicating is immensely useful in a work and private setting, there are many dangers lurking online, and young people in particular are most at risk.
Some of the dangers that exist online include:
Spam email — unwanted, nuisance email — usually trying to sell something
Malware — malicious software such as computer viruses, trojans and worms
Spyware — programs that spy on your movements when online
Website hacking and hijacking — to take over a website
Online scams — criminals pose as legitimate businesses for financial gain
Phishing — fraudulent attempt to steal personal information including bank details
Young people are particularly susceptible to cyberbullying — bullying via any technological means such as networking sites, chat rooms, social media, emails, text messages etc. Cyberbullying includes name-calling, insults and taunts right through to physical assaults which are uploaded to websites. All incidents of cyberbullying should be reported and dealt with firmly and swiftly, as with offline bullying.
Online Safety Resources Packs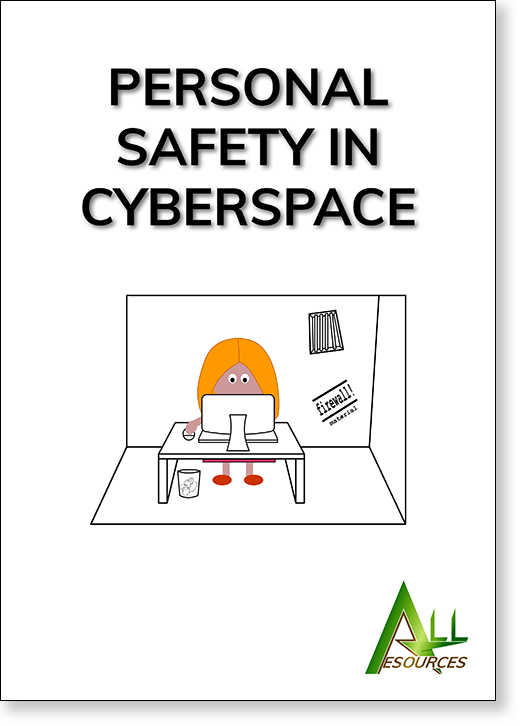 This pack looks at the dangers of chat rooms, phishing, webcams, cyberbullying and online scams.
Hard copy: £27.99 £25.99 add to basket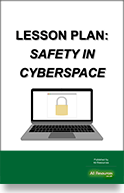 This lesson plan examines the dangers of the internet and how to stay safe on the web.
For a more comprehensive resource pack on staying safe online download our resource pack
Personal Safety in Cyberspace.
£2.99

Hard copy: £10.99 add to basket
Online Safety Topics
The online safety topics we produce resources for include:
Protecting your online identity
Safeguarding against online attacks
Awareness of online scams
Tech safety
We publish online safety resources to support schools by providing help and guidance in an educational format. Our resource packs give the information in a way that informs as well as educates.
Our online safety resources for teachers include online safety resource packs that cover a variety of issues as well as our lesson plans on online safety.
Teaching students about online safety is important. Our aim is to produce resource packs that provide information and knowledge of online safety.